Done for
iconfiend100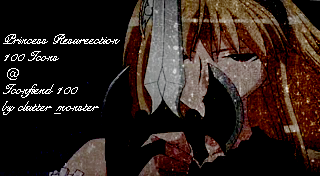 Series
Princess Resurrection (Kaibutsu Ōjo)
Theme Set
Gamma
New Icons
66-90
Progress
90/100
Credits
01
snake eyes
02
blackmail
03
ricochet
04
facade
05
rumors
06
pride
07
lock and key
08
cunning
09
damaged
10
reign
11
lapse
12
shameless
13
skin deep
14
velvet
15
legend
16
smirk
17
poison
18
obsession
19
gamble
20
conquer
21
smoke
22
rainy day
23
monochrome
24
blured
25
trigger
26
infamy
27
monster
28
prejudice
29
checkmate
30
trapped
31
seeing red
32
crime
33
hell
34
aged
35
revolt
36
paradise lost
37
amnesty
38
weapon
39
walk away
40
stained
41
spectral
42
accident
43
baroque
44
breaking point
45
why me
46
chemical
47
languish
48
distence
49
no going back
50
stigmata
51
AC
52
AC
53
AC
54
AC
55
AC
56
AC
57
AC
58
AC
59
AC
60
AC
61
AC
62
AC
63
AC
64
AC
65

AC
66
AC
67
AC
68
AC
69
AC
70
AC
71
AC
72
AC
73
AC
74
AC
75
AC
76
AC
77
AC
78
AC
79
AC
80
AC
81
AC
82
AC
83
AC
84
AC
85
AC
86
AC
87
AC
88
AC
89
AC
90

AC
91
AC
92
AC
93
AC
94
AC
95
AC
96
AC
97
AC
98
AC
99
AC
100
AC
Explanations:
#7
Lock and Key- No robo loli. You no can has chainsaw. (all the explanation I feel like writing.)
#28
Prejudice- A key point in Riza's fight with the werewolf is his mocking her for only being half-werewolf.
#37
Amnesty- This is the last image Ciel has before he dies, wishing that he could see the ocean and love a human being, in other words to be free. I thought it fit.
#43
Baroque- "Baroque artists chose the most dramatic point, the moment when the action was occurring"
#45
Why Me- This is basically Hiro's second revival and the start of his life as Hime's servant. Meaning he's now completely dependent on her to stay alive. Yeah, he's basically screwed :]
#47
Languish- "(intransitive) To pine away in longing for something" It seemed to fit.
1. Credit if used.
2. Comments please ._.?
3. Textless are most likely bases. Ask if you have any questions.
Current Mood:
listless
Current Music: Boss: Armogohma- Koji Kondo